Dramatic situation at the shelter for homeless animals "Give a paw, friend" in Zaporizhzhya.
HELP US BUY FOOD!
THESE ANIMALS URGENTLY NEED YOUR HELP:
URGENT NEED FOR HELP FOR ANIMALS FROM ZAPOROZHYE
Ladies and Gentlemen, A shelter for homeless animals in Zaporizhzhya (Ukraine) has contacted us directly with an urgent request for help.
This facility has been in operation for 12 years and is located in the city centre.
Before the war they had 300 animals, today they have 370, including 63 cats, the rest are dogs.
The newest animals they have taken in recently are dogs and cats abandoned by people fleeing the war.
THERE IS NOT EVEN ENOUGH FOOD FOR THE ANIMALS
Note; You can switch on German or English subtitles in the settings.
URGENTLY NEEDED:
– Dog and cat food
– transport boxes
– Leashes and collars
– Preparations against fleas and ticks
– Dressing materials
Shipping address for parcels:
Fundacja BENEK
ul. Orzechowa 15
63-004 Szewce (Poland)
Michał Bednarek
Tel  506 349 596
You can also make a contribution to our money collection. With the collected money we buy the necessary things and also transfer money to the animal shelters we support.
If you would like to support our activities for

Ukraine

:

Donation with the title: "For Ukraine".
Address: BENEK Foundation, Orzechowa 15, 63-004 Szewce.
For bank transfers in EURO
– 08102040270000150217290776
For donations from Poland:
– 23102040270000110216926564
For donations from abroad:
– BPKOPLPWPL23102040270000110216926564
 PayPal: fundacja.benek@op.pl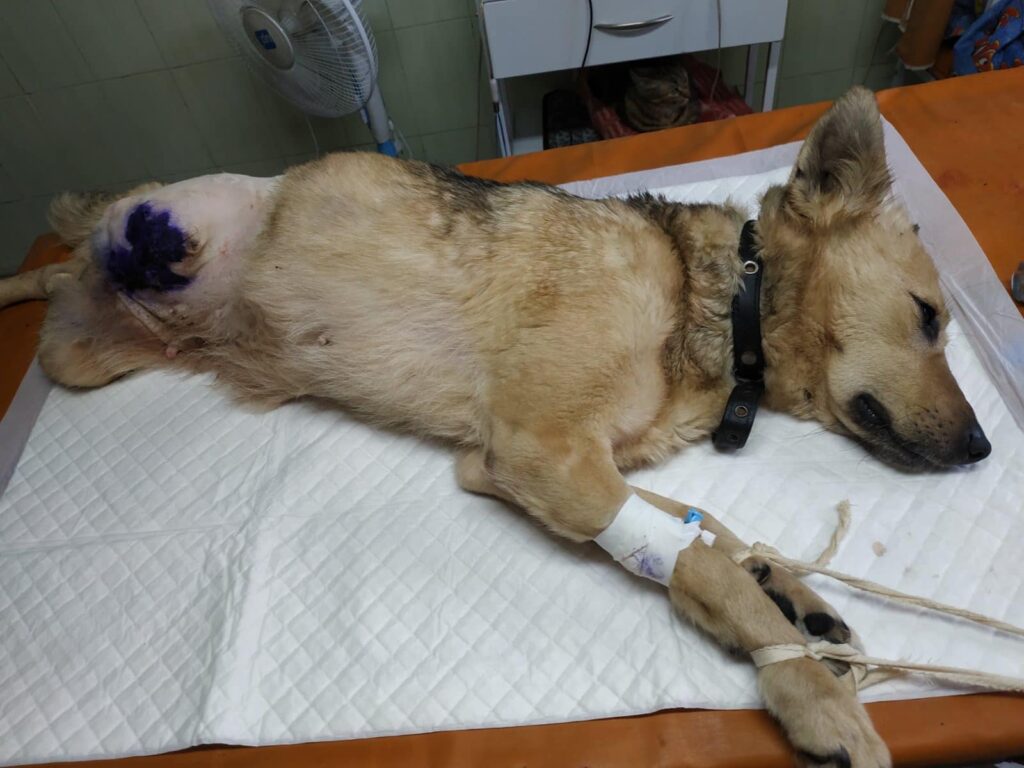 The caretakers of the shelter have numerous animals under their care. For their own sake, they have stayed put, believing that they can survive this terrible time and save their four-legged friends, for whom they are the only hope.
Sirens are the order of the day here, but they do not stop in their efforts. Every day they come to the shelter, risking their own lives. They feed, groom, and clean the animals and pick up unattended animals from the streets and homes every day.
Although the shelter is full, they continue to help those others who pass by indifferently.
The shelter also cares for many sick, disabled and injured animals. The most needy and poorest are placed in paid transitional homes so that they can receive the best possible care. Those who need hospitalisation or surgery continue to be taken to veterinary clinics to save their lives. All this comes at a huge cost, and how can they have the strength to fight for a better future when there is a problem with basic care, including feeding hundreds of homeless animals?
The carers of the animals from the Give a Paw, Friend shelter are urgently appealing for any help.
They are in a tragic situation. There is a constant shortage of food for dogs and cats. These brave people are showing great heroism by staying put. And they do everything they can to save these hundreds of defenceless animals. To survive the war together. We have to help them. We need to provide them with what will realistically increase their chances of survival.
We have agreed together that we will deliver the food to our camp near Lviv, from where they will collect it themselves. We urgently need your help to save the animals in Zaporizhzhya.
The shelter "Give a paw, friend" asks very much for:
– Dog and cat food 
– transport boxes
– Leashes and collars
– preparations against fleas and ticks
– bandages.
If you can, please help to save them. There is a war going on, sirens are wailing, bombs are exploding and the animals, who had nothing, have been deprived of even the minimum of food.