Belochka from Zaporizhzhya is partially paralyzed, she has also lost her paw. Please help!
Update 17.05.2022
Thank you for all the help you have given to Bieloczka – a partially paralysed dog who needed intensive medical care. Currently, Bieloczka is back at the shelter from the clinic where she spent some time. Her paw is in good condition.
Thanks to you, it was possible to provide her with care and treatment during the dramatic time of war. We thank you!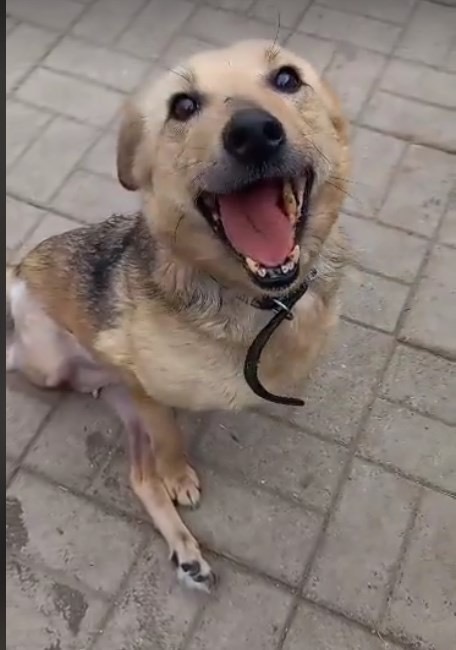 Belochka from Zaporizhzhya is partially paralysed, she has also lost her paw. Belochka has been living at the shelter "Give a paw, friend" in Zaporizhzhya, Ukraine for several years. She is one of those dogs that need constant care and almost constant treatment.
Belochka came here with a broken spine. She needed immediate surgery and long-term treatment. Thanks to the enormous efforts of the doctors and the nursing staff, the dog was able to move independently after some time.
Belochka started to walk, pulling and straining her back part of the body. As a result, her hind paws were constantly rubbing the ground and getting injured. One of them was in such a bad condition that the wounds could not be healed in any way despite all efforts and sepsis was imminent. In this situation, the keepers together with the doctors decided that the only way to avoid infection was to amputate the paw.
The amputation helped for some time, but all the time there is the fear that the same thing will happen to the other paw. The keepers protect the paw with special stockings, which helps to some extent, but the paw still gets injured on the ground. Therefore, Belochka needs constant control, administration of medication, protection and care of the paw.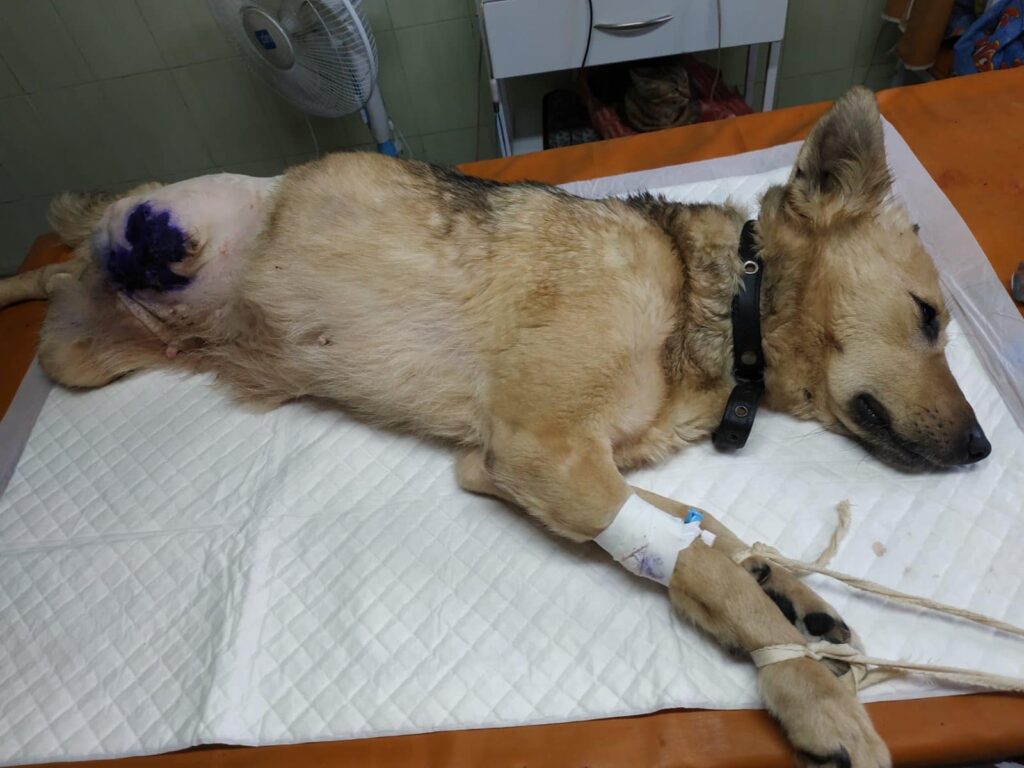 There is a war going on and the situation at the shelter is dramatic. There is a lack of everything – food, medicine, bandages and money. There is also a shortage of animal keepers. It is difficult to take care of Belochka, because it is necessary to clean her paw, it is difficult to administer medicines, which are simply not there…
We sincerely ask for help for Belochka. Please help us to raise funds to donate to the shelter "Give a Paw, Friend" which can be used for treatment, purchase of medicines and bandages, and food.
If you would like to support 
Belochka

:

 Donation with the title: "For Belochka".
Address: BENEK Foundation, Orzechowa 15, 63-004 Szewce.

 For bank transfers in EURO
– 08102040270000150217290776

For donations from Poland:
– 23102040270000110216926564

 For donations from abroad:
– BPKOPLPWPL23102040270000110216926564
 PayPal: fundacja.benek@op.pl
A big
THANK YOU
for all your support.
Your help makes a big difference.